Gift Items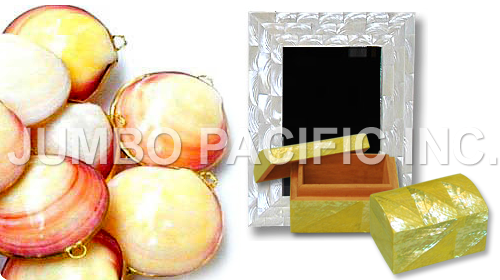 Presenting Jumbo Pacific's Best Selling Raw Shells. Consist of Mother of Pearls, Brownlip, Blacklip, Hammer, Paua and Limpit shells. Distinctively characterized by the color, these exquisite shells made a great waves for today's fashion trends. Truly a natures beauty.
Classic Collection of Philippine jewelry, natural jewelries and fashion jewelry puka shells components, heishie shell, colorful wood beads, troka, shell pendants, specimen shells, raw shell, coco indian sticks, raw material components, capiz shells, shell products, coco jewelry, fashion shell jewelry components and Philippine shells component. The essence of today's costume fashion natural shell jewelry collection.
LIST OF OF PRODUCTS FROM DECORATIONS
Select your best choice of products that suits your style for your decorations in your home, hotels, rooms.

Coin Purses

Shell Wallet or Coin Purses are purely handcrafted and handmade from the finest shells. Gifts for increasing the well-being of yourself and your loved ones. What a thrill it has been to offer this exciting collection of shell accessories. It is available in different kinds and designs. Get exactly what you want!

Details »


Jewelry Boxes

Jumbo Pacific's Jewelry Box collection was made from the high quality materials known from nature. All jewelry boxes beautifully hand-made from the world-class shell crafters. Proudly made in the Philippines.

Details »


Picture Frames

All different hand crafted materials inlayed with Shell are very much available and affordable in any shapes, designs and color. It can be in a form of fashion items such as hairpins, bracelets, bangles, brooche, picture frames keychain, resin, miniatures, pill box, jewelry box, buttons, coin purses, pendants and also for decorative items. We also accepts customers designs at a very low rate. It is purely handmade & handcrafted by the finest shell inlay maker here in the Philippines.

Details »