Specials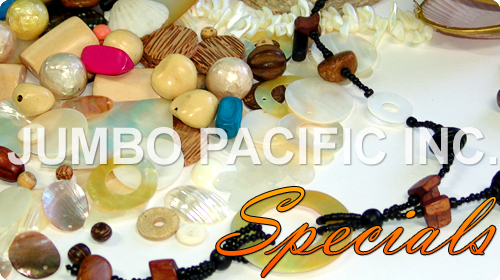 Zip Fashion Specials are top class jewelries and accessories from necklaces, bangles, bracelets, earrings, rings, pendants, anklets. Also in gift items like jewelry boxes, shell basquets. Novelties of decorations hand made in the philippines from the natural components.
Philippine Novelties - Handwoven or handmade native baskets, bags, wood products, footwear like sandals and slippers, beachwear, shell jewelry, capiz shell candle holder, capiz shell tiles, sea shell products, natural jewelry shell supply and jewellery shell boxes. Raffia cloth, abacca rope, jute, table ware carving, basket, mask ethnic and sinamay are also available. Philippines Product Hand-made jeweleries from Cebu City, Philippines.
Capiz shells and mother of pearl are one of the top choices natural material to make fashion accessories, gift items, shell fashion jewelry, novelty and fashion jewelry accessories. Capiz shells are actually the outer shell of a marine mollusk, whose scientific name is placuna placenta and can be found in the shallow coastal waters of the Philippines. Capiz shells are also known as windowpane oyster. Capiz shell products are lamp shades, illuminated Christmas wreaths, jewelry boxes, trays and hot plates.
CATEGORIES